Wool Flannel Trouser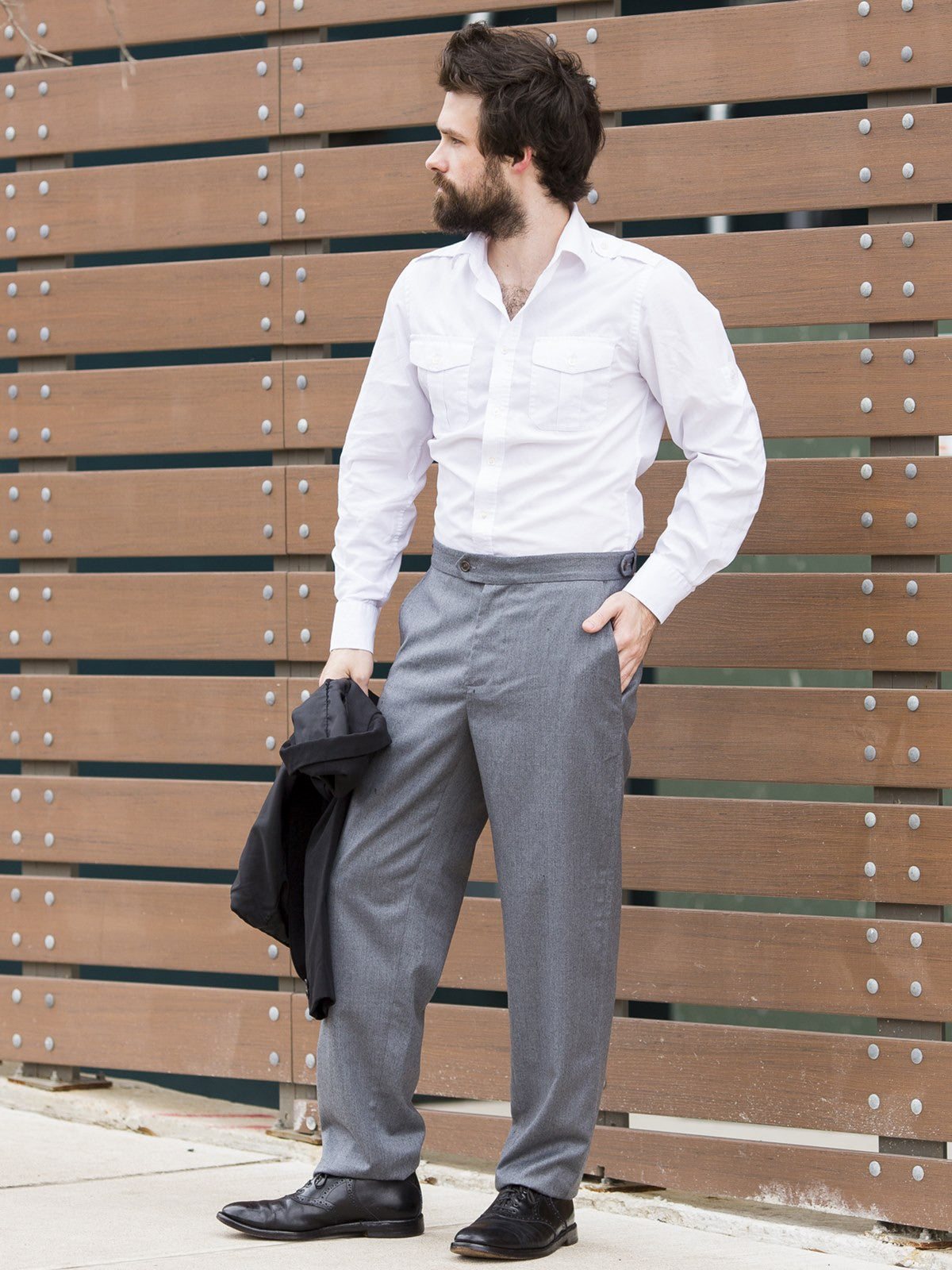 Every man should own a great pair of grey lightweight wool flannel trousers.  They can be worn like jeans but are more comfortable and more professional.  Feb. 2016 Delivery.
Cut to Order  |   Size Chart
TIME REMAINING TO BUY
About The Style
A great pair of lightweight wool flannel trousers can be worn like jeans but are more comfortable and more professional. You can toss on a blazer to dress them up or rip off the jacket, untuck the shirt and be ready for happy hour. These are perfect for travel with a hidden inner pocket and an adjustable waistband. No belt necessary, which also means no stripping down at airport security.
The Details
100% Premium Wool Flannel. Classic fit. Flat front with medium rise. Three button closure. Two piece rear split waistband with encased elastic for added comfort and movement. Hidden interior waist credit card pocket. Zip front.
Product & Manufacturing Details
Fabric: 100% Premium Grey Wool Flannel imported from Italy
Regular Fit: Classic flat front with medium rise
Inseam Detail: Extra inches of fabric concealed within the hem. Added fabric allows you to achieve your perfect inseam length through tailoring
Design Details: hidden ID pocket inside front waistband, concealed elastic waistband allows for snug, comfortable fit, no belt or belt loops needed
Care Instructions: dry clean only
Cut to Order | Made in USA
We ship internationally.
Note: Antonio is wearing a size 32 waist in the photos.
About Everyman Brand
Everyman was born out of Matt Swinney's constant contact with men that were intimidated by fashion. Every man should have several staple pieces in his wardrobe that he can go to any day of the week, at any time of day, and feel confident in his appearance. We will launch one product at time -- the PERFECT product with quality materials at an affordable price point. When every guy goes to his closet every morning, he'll go to his Everyman.
Please enter your size during the checkout process. To checkout, click the PRE-ORDER NOW button.
Everyman sizing is shown in the size chart below:

Please also note the following:
Contact us at hello@trunkist.com with any sizing questions or concerns
What is cut to order (i.e. pre-order)?
Production is solely based on quantities sold during the pre-order trunk show, thus reducing excess inventory waste. We have manufacturing & fabric suppliers lined up. After the pre-order campaign ends, your pre-order will be batched with the other pre-orders. Production will be scheduled, suppliers will be paid and your garment will be produced and delivered to you.
Will you update me on the production status?
Yes! Please provide your e-mail address when placing your pre-order. We will keep you informed on the status.
When do I tell you the size that I would like?
You may enter your size when placing your pre-order. It is a choice at the top of the checkout process. For selecting your size, please refer to the Sizing Guide tab to learn more.
When will I receive the product?
Our manufacturer and fabric suppliers are ready to go. While the exact shipping date is TBD, we expect it to be February 2016.
Do you ship internationally?
Yes, we ship internationally. Please enter your international shipping address during the pre-order checkout process. NOTE: International customers will be responsible for any customs fees, if applicable.
What if I receive the product and I don't like it or it does not fit?
Trunkist guarantees both production and customer satisfaction. We accept returns & provide full refunds. Our return policy information is located in the footer of our website - scroll to the bottom to find the link.