The Lawton Shirt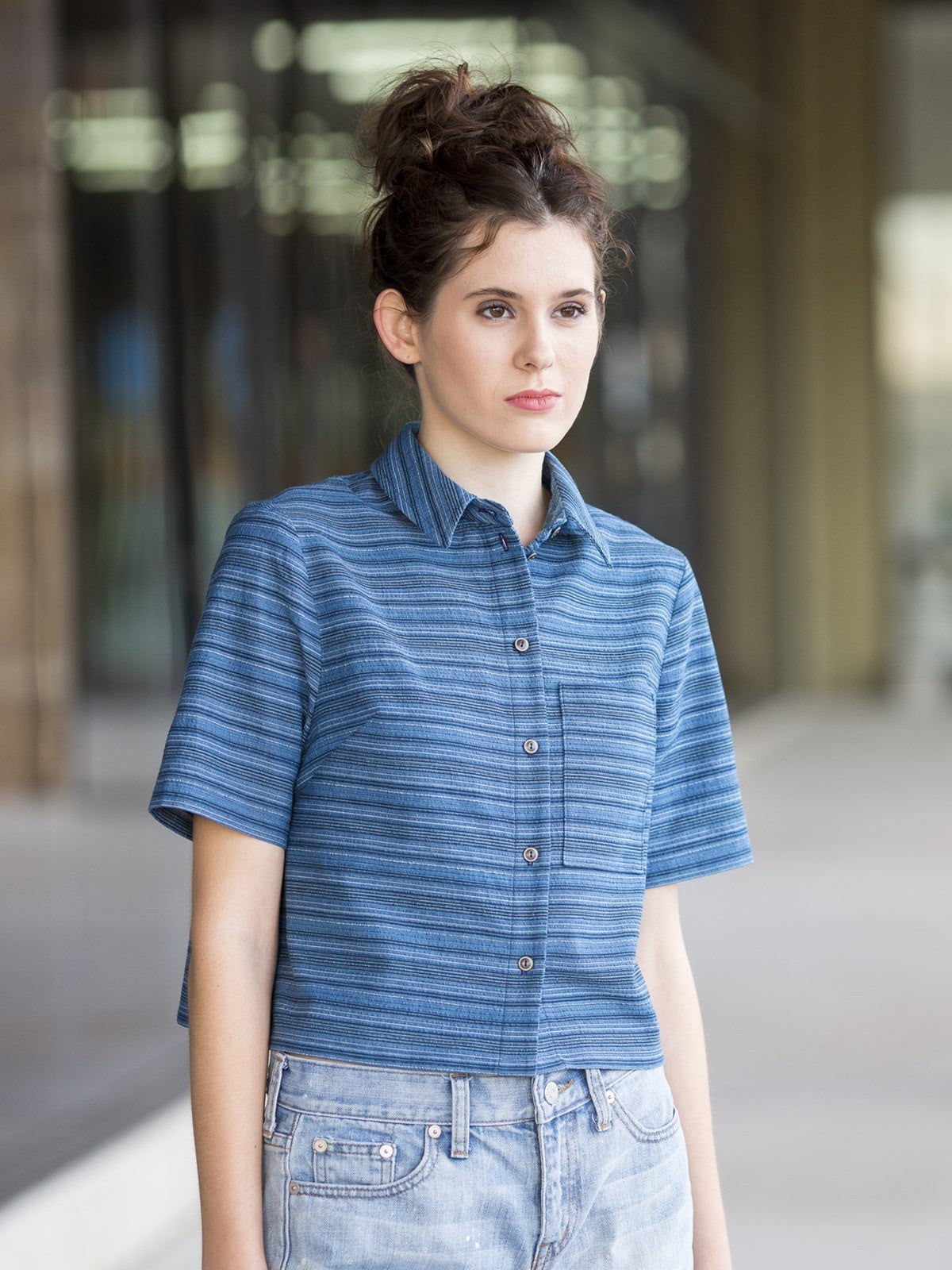 Effortlessly cool, oversized, crop button-up that we love.
Cut to Order  |   March 2016 Delivery  |  Size Chart
TIME REMAINING TO BUY
About The Style
"Transitional clothing has always been my favorite to design. For this Trunkist mini collection I wanted to bring you clothing that is comfortable to wear and that is transitional from a day date to a night out. Enjoy."
- Lindsey Creel
The Details
The Lawton Shirt has a slightly oversized build and a super neat blue palette stripe. A slightly cropped button up with a double button neck. The boxy frame, plus one front pocket create a fun twist on a classic shirt. Wear shirt buttoned up with high waisted pant, or unbuttoned over your favorite tank.
Product & Manufacturing Details
Color: multi-color stripe
Fabric: 100% cotton
Fit: oversized fit with slight crop
Details: one pocket, short sleeve button-up
Care Instructions: machine wash cold with like colors, tumble dry low, warm iron if needed
Cut to Order | March 2016 Delivery
NOTE: Model is wearing a size small in the photos.
About Lindsey Creel & M.E. Shirley
Lindsey Creel was a contestant on season 14 of "Project Runway." Lindsey Creel launched M.E. Shirley in late 2012. M.E. Shirley focuses on deceptively comfortable womenswear that is both timeless and built to wear with ease. M.E. Shirley is a small batch womenswear line based out of Austin, Tx. Designer Lindsey Creel creates and constructs each piece with the intention of making "someone's favorite piece" every time. M.E. Shirley began as an ode to her great grandmother Mary Edna Shirley.

M.E Shirley comes from the idea that we can all accomplish anything we dream when we feel fulfilled. And great clothing is part of that. It changes you. We hope that you feel the care and thought that we put into each piece we create.
Please enter your size during the checkout process. To checkout, click the PRE-ORDER NOW button.
Sizing is shown in the size chart below:

Please also note the following:
Contact us at hello@trunkist.com with any sizing questions or concerns
What is cut to order (i.e. pre-order)?
Production is solely based on quantities sold during the pre-order trunk show, thus reducing excess inventory waste. We have manufacturing & fabric suppliers lined up. After the pre-order campaign ends, your pre-order will be batched with the other pre-orders. Production will be scheduled, suppliers will be paid and your garment will be produced and delivered to you.
What is the minimum order quantity for production?
The minimum number of orders required for this garment to go into production is 50.
What happens if the goal is not met?
If less than 50 orders are placed by the end of the pre-order sales period, then Trunkist will refund all customers.
Will you update me on the production status?
Yes! Please provide your e-mail address when pre-ordering and we keep you informed on the status.
When do I tell you the size that I would like?
You may enter your size when placing your pre-order. It is a choice at the top of the checkout process. For selecting your size, please refer to the Sizing Guide tab to learn more.
When will I receive the product?
Our manufacturer and fabric suppliers are ready to go. While the exact shipping date is TBD, we expect it to be March 2016. We will keep you informed along the way.
Do you ship internationally?
Yes, we ship internationally. Please enter your international shipping address during the pre-order checkout process. NOTE: International customers will be responsible for any customs fees, if applicable.
What if I receive the product and I don't like it or it does not fit?
Trunkist guarantees both production and customer satisfaction. We accept returns & provide full refunds. Our return policy information is located in the footer of our website - scroll to the bottom to find the link.