The Bonnie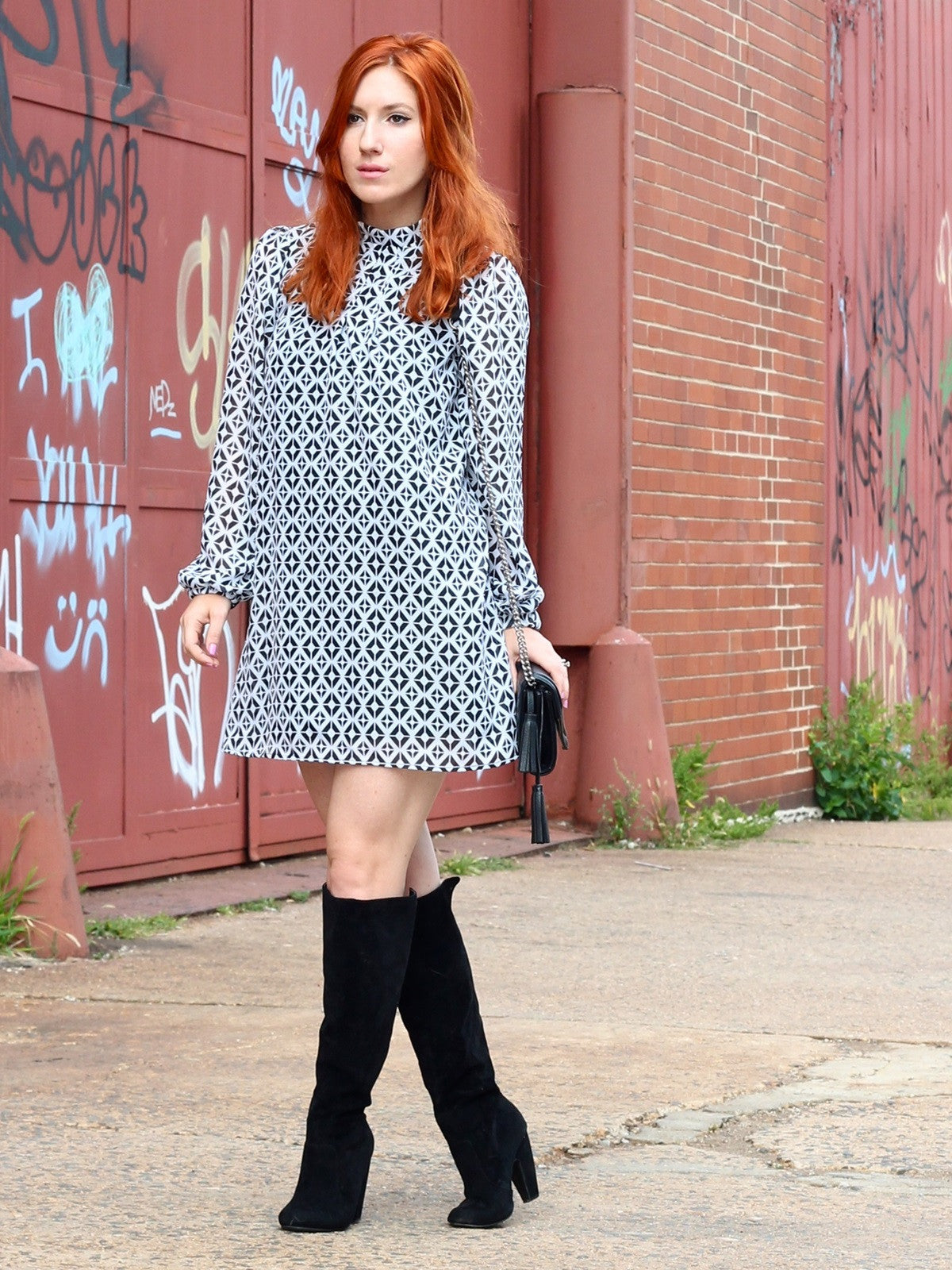 A playful, modern take on the classic swing dress.  The Bonnie was designed by Megan Zietz.
Estimated delivery date for all pre-orders:  October 2015 
Made in Dallas, Texas.  
About The Style
A modern interpretation of a classic swing dress. Eye catching, retro black and white print in a universally flattering shape. Channel your inner Twiggy and wear it with stacked heels or add a little bit of edge with boots. Either are bound to have you wearing this dress from day to night.
The Details
The center back keyhole just below the collar and the billowy puff shoulder sleeves make The Bonnie truly unique.
Product & Manufacturing Details
Shell: Polyester Chiffon
Lining: Satin Polyester
Care Instructions: dry clean only
Color: Black and White printed Chiffon; Black lining
Generous A-line body (lined), only fitted through the shoulders
Sheer, billowy puff shoulder sleeves, 1" width elastic cuffs
Open back keyhole, one button closure at center back of Mandarin-style collar
Made in Texas, USA.
All orders: expected ship date late September 2015
NOTE: Megan is 5 foot 2 inches and wearing a size 2 dress in the photos. This dress in the photos is slightly shorter in length than the final production dress. Please refer to the Sizing Details tab for more information.
The Inspiration
"The Bonnie is an ode to one of the classiest ladies I know.
Stemming from my love of the 60's and 70's, this classic shape reminds me of the determined, but innocent, freedom that sparked a modern revolution.
I wanted something eye catching that had both a modern and retro appeal. I was immediately drawn to this black and white print. Its pattern naturally compliments the shape and movement of the dress, giving it a dynamic look and feel.
It's not just about what a dress looks like but how amazing you feel once you put it on. My goal was to create something to make you want dance like no one is looking or strut confidently down your own concrete runway. For me, the Bonnie does that. I can see myself wearing this for years to come, regardless of the season and I hope you love it as much as I do."
About Megan Zietz
Stylist & TfDiaries.com creator living in NYC with a special fondness for shoes, bold prints, lipstick, and messy hair.
Megan brings her creativity and style to TfDiaries.com where she serves up the latest trends and fashions through her uniquely cultured aesthetic. Travel guides, beauty posts, and home decor ideas, provide a total lifestyle resource.
Please enter your size during the checkout process. To checkout, click the PRE-ORDER NOW button.
Trunkist sizing is shown in the size chart below:

Please also note the following:
Contact us at hello@trunkist.com with any sizing questions or concerns

For Trunkist fulfilled products, we provide a satisfaction guarantee. If it does not fit, then return it for a full refund
When and how will I know if the garment achieves its minimum sales goal and will be produced?
If you provide your e-mail address through pre-ordering a dress or by asking for a reminder, then we will e-mail you directly to let you know the status.
When do I tell you the size of the dress that I would like?
You may enter your size when placing your pre-order. It is a choice at the top of the checkout process. For selecting your size, please refer to the Sizing Guide tab to learn more.
How much does shipping cost?
Shipping is a flat-rate of $5.95 within the United States. We charge $29.95 for international shipping.
When will I receive the dress?
We plan that our manufacturer will produce the dress in September. While the exact shipping date is TBD, we expect it to be early Fall 2015.
How do I buy one?
When you click the PRE-ORDER button, you are committing to purchase the dress. Additionally, we use Tilt to process all purchase commitments and payments. When you click PRE-ORDER, Tilt will check your card's account balance and put a reserve on it. You will not be charged until the designer's goal for garments sold is achieved. At the point the goal is reached, cards for existing sales are charged; any sold after that are charged immediately.
What if I receive the dress and I don't like it or it does not fit?
Trunkist guarantees both production and customer satisfaction. We accept returns & provide full refunds. Our return policy information is on the main page of our website - scroll to the bottom to find the link.
Will I be able to buy this dress later or in retail stores?
No, this dress in this exact color, fabric and style is only available now. It will not be produced again and will not be available in a retail location.
How do I care for the dress?
The Bonnie Dress is dry clean only.
Where is The Bonnie produced?
The Bonnie is Made in the USA from fabric and notions sourced globally.