Classic Shift Dress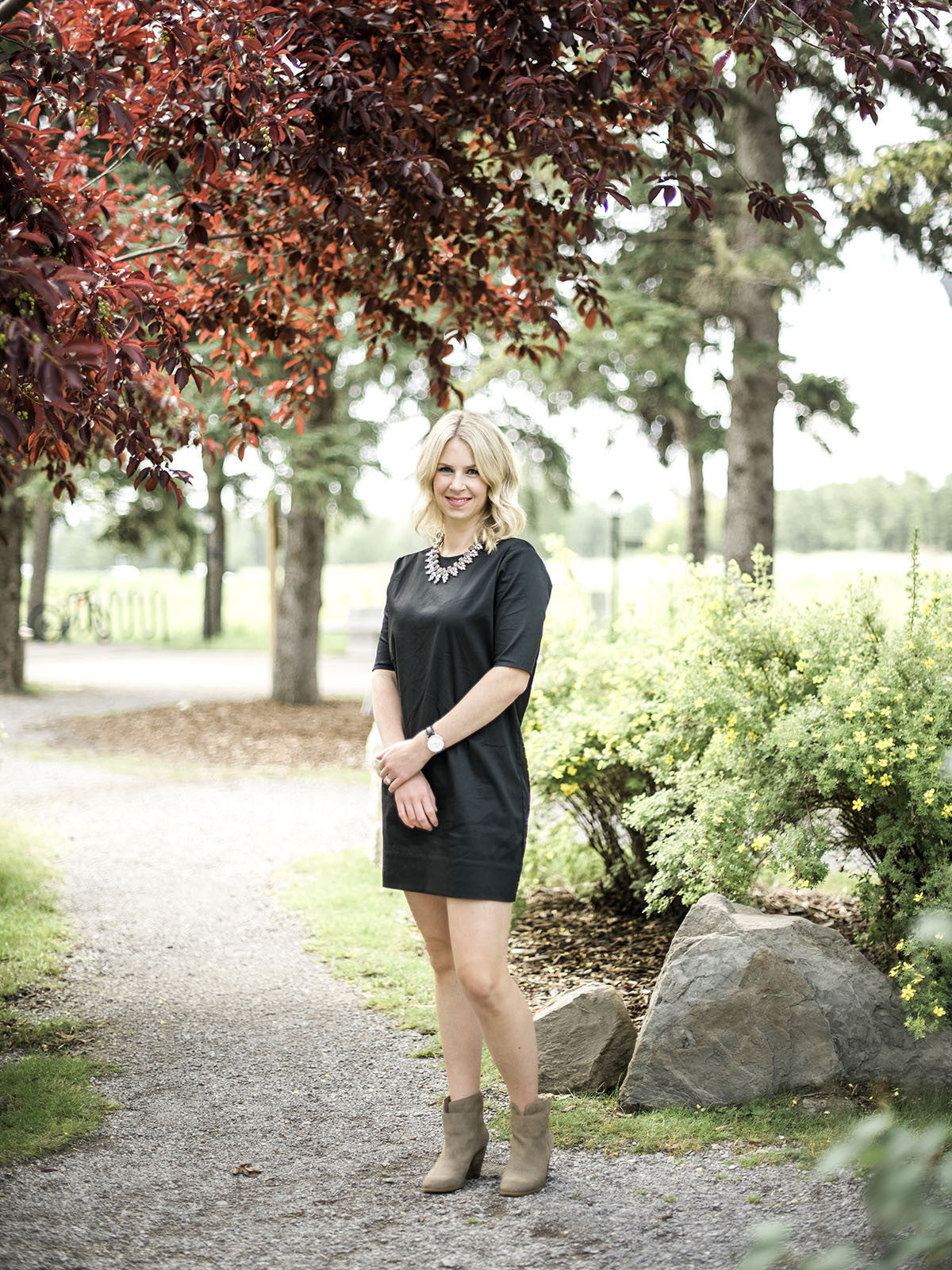 This seasonless woven shift dress has a loose, chic fit with half sleeves. It's a classic, must-have wardrobe piece. Pair this look with coordinating separates for the whole family. Shop all 3 colors here. 
Please note: Model height is taller than average, therefore dress length falls at mid-thigh. For average height dress length will be above the knee, and not quite as short.

Size Chart | Estimated Shipping 9/23/16 - 10/7/16
TIME REMAINING TO BUY
This eased fit is perfect for chasing the kids around, while maintaining sleek, modern and fashion-forward style. Wear to coordinate with your family at your next event, or on it's own to the office. This dress is designed to style up or down, for all occasions - you'll love the versatility of this wardrobe staple. This flattering shift silhouette is constructed with a breathable cotton and polyester blend fabric. It's stylized with an open crew neckline, center back zip closure, and sleeves that end at the elbow. The dress length sits above the knee.
Product & Manufacturing Details
Dress Fabric: Woven Stretch Cotton Blend
Fit: Shift Dress with Ease
Reference Size Chart Closely for Best Fit
Design Details: Open Crew Neckline | Half Length Sleeve | Back Zip Closure | Above Knee Length
Care Instructions: Machine Wash Cold with Like Colors | Tumble Dry Low
Cut to Order | Made in the USA
Two childhood friends have come together through motherhood and created a new fashion brand. A clothing line that is not only inspired by the bond of family, but also demonstrates how a unique business model can innovate family fashion. We are a lifestyle brand focused on bringing family style to the forefront of the clothing industry. Kin and Kith Inc. is an environmentally conscious company who has partnered with fair trade producers and manufacturers. We are focused on providing people around the globe digital access to high quality coordinated looks for the entire family. Our collections are limited edition pieces in beautiful fabrics, rich colors and simple design. Durable, comfortable and chic. Family is fun! Whatever your mix, Match! By offering our collection pieces through a cut-to-order, limited edition online platform, we are showing how the fashion industry can easily reduce excessive inventory waste. This not only reduces costs for our customers, but will preserve the future for our families. 
Please contact us at hello@trunkist.com with any sizing questions or concerns prior to ordering.
Model is 5'9" and wearing a size Small. Please note: Model height is taller than average, therefore dress length falls at mid-thigh. For average height dress length will be above the knee, and not quite as short.
When will I receive the product?
Our manufacturer and fabric suppliers are ready to go. You will receive your product just in time for the FALL season. While the exact shipping date is TBD, we expect it to be anywhere between 9/23/16 and 10/7/16.
Do you ship internationally?
Yes, we ship internationally. Please enter your international shipping address during the pre-order checkout process. NOTE: International customers will be responsible for any customs fees, if applicable.
Will you update me on the production status?
Yes! Please provide your e-mail address when placing your pre-order. We will keep you informed on the status.
What is cut-to-order (i.e. why pre-order)?
Production is solely based on quantities sold during the pre-order trunk show, thus reducing excess inventory waste. We have manufacturing & fabric suppliers lined up. After the pre-order campaign ends, your pre-order will be batched with the other pre-orders. Production will be scheduled, suppliers will be paid and your garment will be produced and delivered to you.
What if I receive the product and I don't like it or it does not fit?
Trunkist will accept returns and exchanges on Kin & Kith product up to 14 days after the product is delivered. Please contact us at hello@trunkist.com for any questions or concerns prior to ordering.